Car Rental Oriente Train Station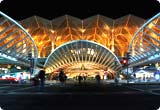 Gare Do Oriente or Lisbon Orient Station is one of the main transport hubs located in Lisbon, Portugal. The station was designed by the Spanish architect Santiago Calatrava and established by Nesco. The station was completed in 1998 for the Expo 98 world's fair in Parque das Nacoes. It comprises a local, national and international bus station, a Lisbon Metro station, a high-speed, commuter and regional train hub, a police station, a shopping centre. Oriente Station is one of the world's major stations with around 75 million passengers every year. The station is enclosed by various services, luxury hotels, restaurants, bars, art galleries, museums, leisure centers and shops.

Contact our reliable customer support team to book your car rental for Gare Do Oriente.