Car Rental Braga Downtown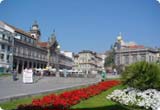 Having tie-ups with leading car suppliers, we offer high-quality Braga Downtown car rental services at economical prices. We provide an excellent fleet of cars ranging from economical to luxurious segments in affiliation with suppliers. We serve all the travelers and provide various rental benefits and inclusions with secure booking engine.

About Braga Downtown

Braga is a city located in the municipality of Braga in northwestern Portuguese district of Braga. In 2012, Braga was endowed with the title European Youth Capital 2012. Braga is an ancient and modernistic city and one of the most significant Archdiocese. Braga has a university named Universidade do Minho and is about 30 years old. There are lots of places to visit in Braga such as the historic downtown with the cathedral and other churches, traditional shops, and museums.