Car Rental Leiria Downtown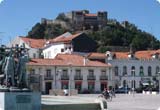 Leiria is a city located in Leiria Municipality in the Centro region of Portugal. Leiria is the capital of Leiria District. This is the seat of the Roman Catholic Diocese of Leiria-Fatima. Being a location of historical interest, Castle of Leiria offers a venue for cultural events. Located nearby the castle, the Church of Saint Peter is utilized as the site of Leiria's yearly festival of music. Leiria is also home to mimo, Portugal's single Museum of the Moving Image and the Paper Museum located at the location of Portugal's 1st paper mill. The Theatre Miguel Franco in the market Sant'Ana and the Theatre Jose Lucio da Silva are sites for music, theatre, and dance performances as well as cinema. There are numerous summer Festivals takes place in the region.

Car rental in Leiria Downtown is the comfortable and economical option to explore all the attractions with utmost ease.