Car Rental Varna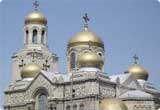 Varna is one of Bulgaria's biggest cities and well known for being its summer capital since it is situated along the coast of the Black Sea. Varna boasts of its alluring seaside resorts, historical structures plus a mix of modern and ancient cityscape.
Before you begin your sightseeing we recommend a car rental, as it lets you plan nearby commuting easily. VIP cars.com is a leading car rental service provider which will let you access these places conveniently.
Once you are in Varna you can begin your excursion at the 19th century Archaeological Museum. It is an ornate two story building with thousands of historical relics showcasing the Varna's history.
Then head out to the Cathedral Dome for its uniquely painted and colorful windows, erected in the 1960s. It is best to visit the place at night.