Car Rental Agadir Downtown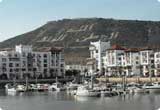 Located right at the heart of Agadir City in Morocco, the Agadir Downtown is a bustling place that is famous for its many museums and shops. Downtown Agadir is especially famous for the Bert Flint Museum located on Mohammed V Boulevard where tourists can learn the early beginnings of the city. Other museums also include the Amazigh Heritage Museum located at the AytSouss Square.

Another interesting place to visit in Agadir Downtown is the marina where tourists can enjoy Moorish architecture and buy souvenirs from the local shops. There is a little train that circuits around the city but if you want to explore more of Agadir, you ought to hire cars from VIPcars.com. At VIP cars, we offer a wide array of vehicles from sedans to SUVs thus traveling within the city and beyond is more easy. So for your vehicle needs in Agadir Downtown, book with us now!