Car Rental Rabat Downtown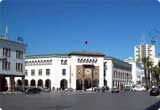 Rabat Downtown is located with the capital city of Morocco. It is the ancient city of Sale and in 2013 CNN has awarded Rabat Downtown as a top travel destination—which only means that it has plenty to offer local and international tourists.

Before starting your journey to and around Rabat Downtown, better have a rental car booked so you can see the sights at your own leisure and comfort. Booking is fast and easy online via VIPcars.com.
While you must see Rabat Downtown during the daylight, it is also of equal importance that you see it during night time to. Drive down to the old part of Rabat Downtown which is the Medina, you can also eat here and try hot bowls of lubia and homemade tagines. Next stop is the Oudayas and the Hassan which are well-preserved kasbahs. After that try driving along the waterfront for a scenic and breezy drive along the coast.