Car Rental Marrakech Downtown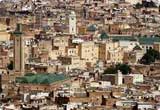 Known as the city of Gold in Morocco, Marrakech Downtown is a perfect site for those who would like to plunge into classic but entirely exotic culture. From the airport, tourists can easily reach Marrakech Downtown using a rental car service. Loacted within driving distance of many interesting sightseeing options, this downtown is major rental pick up location among travelers seeking complete access to Marrakech city. We give you low priced rental booking to let you plan your stay, in advance.

Once you get to the heart of Marrakech, tourists should not miss the busy square of Jemaa Al Fina where local shows, music and crafts are available from noon until midnight. The Koutoubia Mosque is also a must-go to site. This 77 meter tower mosque was built with style of Almohad Andalusia and is also famous for its musk oil scent. The palace of Al Bahia is another place to visit. Created for summer and winter seasons, its major elements of marble, lazuli, and sandalwood will simply make any observer feel entirely comfortable.