Car Rental Fez Airport (FEZ)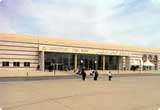 Fes-Saiss Airport or also known as the Fez Airport is one of the six airports serving the country of Morocco. Gateway to Fez city, this airport is situated at an elevation of 1,900 feet with a single runway. Terminal facilities at this airport include VIP lounge, check-in assistance, luggage retrieval and even boarding and assistance with passport-control and security.

The Fez Airport is about 13 kms away from the heart of the city of Fez where most of the attractions of the city, can be savored by non-locals. With a rental car from Fez Airport, you can drive to your booked hotel or plan your commuting to nearby city. We give you exclusive deals for your rental through some of the leading suppliers in the country.