Car Rental Rabat Airport (RBA)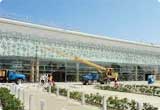 Rabat Airport (also known as Rabat-Sale Airport or Sale Airport) is five miles away from Rabat. There are so many things to do within the capital city of Morocco that's why we recommend that you get a rental car from VIPcars.com.

From Rabat Airport you can head to your accommodation or hotel, as booked. When sightseeing do head to the Royal Palace, visitors are typically not allowed inside but a view of this grand structure is still worth it. Then drive to Mausoleum Mohammed 5 and marvel at the site. And at night, do check out to Amnesia at Rue Monastir for some real Arabian nightlife. It's a club so get dressed to the nines.