Car Rental Oujda Airport (OUD)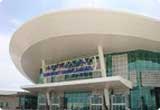 Oujda Airport is also known as Oujda Angads Airport or Angads airport for short. The Oujda Airport is seven miles north of the city of Oujda. We recommend that before you arrive in Oujda Airport, please have a rental car booking. You can book online with us, as we are a renowned leading car rental supplier—locally and internationally.

From Oujda Airport, head right to your hotel and to have a brief siesta. After a brief respite, try Morocco's lamb tangine which is one of their best dishes. Drive down to Oujda Church and have picture taking sprees of the typical Moroccan architecture. See the Ancien Mirador for a comparison of past and present Moroccan architecture.