Car Rental Tangier Downtown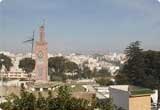 There are so many things to do within and around Tangier Downtown. So, before starting on a journey of the Tangier Downtown we recommend that you hire a car and get it from VIPcars.com. We, at VIP cars, are the leading car rental service provider in Tangiers and internationally—so we can offer you all-inclusive price deals and a low price guarantee.

Rent a car and drive to Souk to check out the local's busy life and their colorful local dresses beside St. Andrew's Church. You must also explore Medina and the thieves market within it and marvel at all the various products available. Then check out the Kasbah Museum which used to be a Sultan's Palace and learn more about Tangier Downtown's history, culture and arts.
A tour of Tangier Downtown is never complete without getting a taste of the excellent Mint tea at the Café Hafa whilst you enjoy the grand ocean vista here.