Car Rental Casablanca Downtown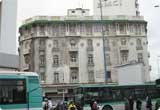 Casablanca Downtown lies at the heart of Casablanca City in Morocco. The downtown area of the city is a busy and lively place, as it is considered as the central business district. The downtown area is famous for its majestic Hassan II Mosque as well as other museums. Near Casablanca Downtown is the Corniche , a lovely neighborhood on the ocean, where tourists can experience western-inspired streets laden with western fast food chains and movie houses.

Downtown Casablanca is also famous for its bustling nightlife. There are lots of pubs and coffee shops that dot all over the central area of Casablanca. On the other hand, tourists should also try hammam or Turkish baths which are offered in many hotels in the city.

Getting around Casablanca Downtown is very convenient via cars from VIPcars.com. With a rental car, you can also plan visits to other Casablanca areas and nearby cities.