Car Rental Fez Downtown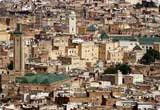 When visiting Fez Downtown for the first time, one should not miss visting Medina of Fez, where one gets to see and feel the exotic views of a town built in 9AD. Here, visitors can indulge with the and experience open-courtyard style of houses, hand-made crafts created by local artisans, and of course mysterious architecture that is quite evident all over Fez Downtown.

For views of the fertile plateaus and plains progressing towards the Atlantic Ocean of Morocco, tourists should also visit Fes el-Bali. Alongside with the highest mountainous points, tourists can indulge in the rare but lush red cedar forests of the Middle Atlas Mountains and Argan trees in the Anti-Atlas.

Rent a car and move efficiently among these sites in Fez Downtown or drive straight to other nearby sightseeing areas.