Cheap Car Rental Deals for
Casablanca Airport
Rent a car at Casablanca Airport aka Mohammed V International Airport (CMN) with VIP Cars and explore the city of Casablanca with absolute ease! With us you can rent a car in 3 simple easy steps – search, compare and book. Just fill the form with your travel dates and conduct a search on our booking engine. Once all the deals appear, you can compare them by using the filters that appear on the compare-page's left pane.
With a car rental at your disposal, you will be free to make your own schedule and will be free to explore the city's many attractions in the order that suits you best without any hassles.
Car Rental Companies at Casablanca International Airport (CMN)
The following VIP Cars' partner suppliers have their car rental desks at Casablanca Mohammed V Intl Airport:
Europcar
Hertz
Sixt
Keddy by Europcar
Carwiz
Dollar
Budget
Driving Tips for a Casablanca Airport Car Rental
Roads and Regulations in Casablanca
'Which side to drive in Morocco?' While cruising on the roads in Morocco in your Casablanca Airport car rental, always keep in mind the most basic driving rule – "driving is on the right, and overtaking is permitted on the left". Also, note that unless signed all the vehicles coming from the right should be given priority at the junctions.
Seat belts Make sure that all the passengers sitting in the rental car are wearing seat belts, even the ones sitting in the back seats. It is a compulsion and any violation of this law may lead to on-the-spot fines.
Safety of Children Children less than 4 years-of-age must be seated in a proper restraint system at the back seat of your Casablanca Airport car rental.
Parking Since finding a car parking can be a tricky thing during the peak season, just like the locals, you can park wherever you please – even on the side of the road, provided it isn't disrupting the traffic flow. However, think of doing such a thing only if you are not able to locate a secure car parking place.
Horns and headlights In Morocco, it is a rule that headlights are to be used both during the day as well as at night. Even blowing horns is quite common – it is considered a sign to urge people to move on.
Mobile Usage Avoid using mobile while driving your Casablanca Airport car rental as mobile usage while driving without hands-free is illegal in Morocco.
Speed Limits in Morocco
The general speed limits in Morocco are:
60 km/h in Urban areas
100 km/h Outside urban areas including expressways (voie express)
120 km/h on Highways (Auto route)
Toll roads
Morocco is home to some of the most extensive toll road systems in the world, so do make sure that you have cash or a credit card with you at all times while driving your Casablanca Airport Car Rental.
Current toll roads in Morocco
A1 - Casablanca–Rabat expressway
A2 - Casablanca–Agadir expressway
A3 - Rabat–Fes expressway
National Route 2
Casablanca–Agadir expressway
Casablanca Airport (CMN) – Overview
Located in Nouaceur Province, Casablanca Airport, also known as Mohammed V International Airport serves the city of Casablanca in Morocco. Casablanca Airport is an international Airport operated by ONDA and derives its formal name from King Mohammed V of Morocco.
It acts as a hub for airlines like Royal Air Maroc, Air Arabia Maroc, and Jetairfly, and provides flights to numerous destinations around the globe. Operated by ONDA, Casablanca Mohammed V Airport was built in 1943 by the government of the United States of America during World War II.
| | |
| --- | --- |
| Address: | Mohammed V International Airport, Nouaceur Province, Morocco |
| IATA Code: | CMN |
Top Attractions in Casablanca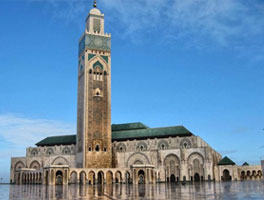 Hassan II Mosque
World-renowned for its marvelous Architecture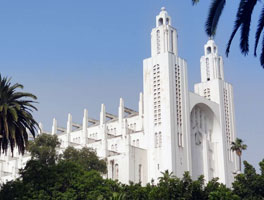 Casablanca Cathedral
Built in 1930, Casablanca Cathedral - the church of the Sacred Heart of Jesus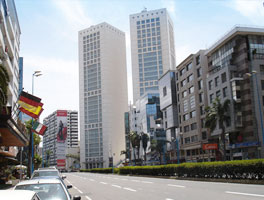 Maârif
Maârif is an administrative district in Casablanca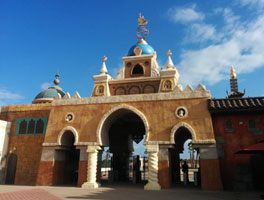 Sinbad Park
A well-known Amusement park and zoo
Suggested Road Trip from Casablanca:
An 8 days Round Trip
If you are planning to spend a week or so in Casablanca, you can take full advantage of your Casablanca Airport car rental. And what better way than exploring Casablanca and other Moroccan destinations by taking a round trip to Casablanca!! But if you just have a day, take this listing as the day trips from Casablanca, choose one place from the below list, and have a great time exploring that destination only with your rental car booked at CMN Airport!
Suggested car rental category for the round trip: 4x4 (as you will be driving off-road while exploring Gorges Dadés and Todra Gorges). Here is a sample route that you can use for the round trip; it covers the places that you can see on the way
Day 1
Casablanca
On day 1, you can explore all that there is in the city of Casablanca. In addition to the attractions that have been listed above, you should also visit the places that everyone refers to as Casablanca's hidden gems, given as under. Note that a car rental in Casablanca would be the best way to travel around the city.
Sidi Abderrahmane, the Lighthouse, Sacre Coeur Cathedral and Port of Casablanca
Day 2
Casablanca to Ouarzazate
While going from Casablanca to Ouarzazate, there are numerous places that you can visit on the way like Marrakech, which is about 244.3 km from Casablanca. One other place where you can stop is Ait Ben Haddou Village – it is located approx 428 kilometers from the city of Casablanca.
There are numerous points of interest in Ouarzazate out of which Taourirt Kasbah, Cinema Museum & Kasbah de Tifoultoute are highly recommended.
Approx 6 hrs 20 minutes
440 km
via A9 and N9
Day 3
Ouarzazate to Gorges Dadés
While traveling from Ouarzazate to Gorges Dadés in your car rental the Town of Skoura, city of Kalaat M'Gouna and town of Boumalne Dades are great places where you can grab some snacks & get your car rental refueled.
On the way to the Gorges Dadés, you can visit its sister canyon – Todra Gorges, and its famed spring of the Sacred fish. It is better to explore these attractions on foot unless you have a 4x4.
Approx 2 hrs 10 minutes
133 kilometers
via N10
Day 4
Gorges Dadés to Midelt
After exploring Gorges Dadés you can head to the nearest town of Boumalne Dades for the night – it is an exceptional town you will certainly fall in love with. Start the fourth day's journey by driving towards Merzouga.
On the way there are numerous small towns, but nothing noteworthy, you can stop at one of these for food and to refuel your rental car. In Merzouga, Morocco National 4x4 Auto Museum, Merzouga' dessert and dunes are what you should not miss at all costs. Next stop is Midelt.
Approx 5 hrs
339 kilometers
via N10 & N13
Day 5
Midelt to Ifrane
Start the fifth day by exploring Midelt, which is home to attractions like Kasbah Myriem, Kasbah Myriem Monastery and Apple Statue.
After having a great morning, drive towards Ifrane which is another great Moroccan city. Some of its most loved attractions include names like Ifrane National Park, Cèdre Gouraud Forest, Ain Vittel and Parc La Prairie.
2 h 4 min
135.8 km
via N13
Day 6
Ifrane to Fes
Home to attractions like Ibn Danan Synagogue, Dar el Makhzen, Al-Attarine Madrasa & Bab Bou Jeloud, Fes is Morocco's second largest city.
While going from Ifrane to Fes, there is not much that you can see one the way, however, the town of Imouzzer Kandar makes for a great stop. In Fes, the places that you can see are Ibn Danan Synagogue, Dar el Makhzen, Al-Attarine Madrasa and Bab Bou Jeloud.
Approx 1 h 12 min
70.0 km
via N8
Day 7
Fes to Rabat
Besides numerous cafes, restaurants, petrol pumps and Souks, Village El Aarjate and Douar Oulad Mhammed are some note-worthy places where you can stop while driving from Fes to Rabat.
In Rabat, Kasbah of the Udayas, Chellah, Hassan Tower and Mausoleum of Mohammed V are the places that you should not miss at all costs!
Approx 2 h 15 min
207.1 km
via A2
Day 8
Rabat to Casablanca
Skhirat and El Mansouria are some of the many sea side towns where you can stop on the way for refueling your rental car, to do some shopping or grab something to eat.
The region has some of the best beaches in Morocco! Mohammedia Monica beach, Tamaris Beach in Grand Casablanca, Houzia Beach in El Jadida and Bouznika are deemed the best of the lot!
Approx 1 h 5 min
85.5 km
via A3
Car Rental FAQs for Casablanca Airport