Car Rental Marrakech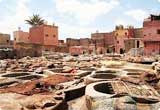 One of its largest cities in Morocco, Marrakech is situated at the foothills of the Atlas Mountains and is just a few hours away from the world renowned Sahara Desert. Marrakech is divided into two major sections: the historical city or Medina, and the European modern district, the Gueliz or Ville Nouvelle.
In the historical part of the city of Marrakech, tourists enjoy a number of European and modernized food chains and branded stores. For a taste of local culture and craftsmanship, tourists should go around the Medina which is an intertwined passageway along with indigenous shops.

Our wide selection of cars ensure that tourist get the appropriate vehicle to get them to their next stop. Book online at VIPcars.com with a 24/7 customer service support.