Car Rental Rabat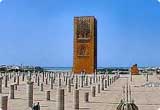 Rabat is the capital and the largest city within the country of Morocco. The name Rabat literally translates to 'fortified place.' The city is located near the mouth of the river of BouRegreg and faces the Atlantic Ocean. The city's history can be traced back to the 11th century.
As an old and historic city, Rabat offers plenty of things to do and sights to enjoy. You can book your car rental for Rabat quickly and easily with us.

One of top places to see is the Kasbah of the Oudaias which boasts of ancient Moroccan structures. Next stop is the Bank Al Maghrib Museum—learn more about the city's ancient culture and heritage to better appreciate your sightseeing tours. Last stop is Chellah which is a very old city established by Carthagians and passed on from Roman to Arabic rulers.